Committee Members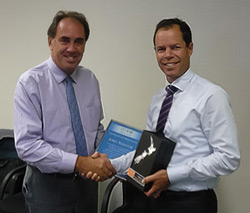 After many years of service on the ICSM Executive Committee and working groups, in 2017 we farewelled Mr John Tulloch (Victoria) and Mr Ron Jarman (ACT). Mr Tulloch was succeeded by the newly appointed Victorian Surveyor-General, Mr Craig Sandy (formerly the Northern Territory Surveyor-General). Mr Rob Sarib is the current ICSM member for the Northern Territory.
GDA2020 launched
A major milestone was reached with the launch on 15 December of Australia's new coordinate reference frame, the Geocentric Datum of Australia 2020 (GDA2020) by Minister for Resources and Northern Australia Matt Canavan.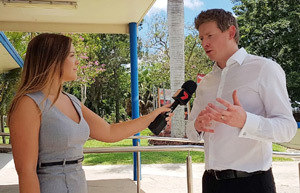 ICSM and Geoscience Australia are working closely with government and spatial organisations to support their transition to the new datum. A series of
technical tools
and
manuals
have been developed to help these organisations update their spatial datasets.
The transformation support tools include the new GDA2020 Technical Manual which provides details on the two transformation datasets needed by the spatial information industry; online software (AUSPOS and AUSGeoid2020) and plugins to support the transformation; and a new web service that will transform selected spatial format files from GDA94 to GDA2020 using the transformation grids.
theLINK
The launch of ANZLIC's new Location INformation Knowledge (LINK) Platform delivers an exciting new era of open access to essential spatial datasets across all levels of Australian government.
It takes the conceptual Foundation Spatial Data Framework (FSDF), first published in 2012, and delivers a comprehensive online knowledge base. This is a significant collaborative effort across all levels of government, and is another step towards developing a truly national approach for spatial data information.
The Location INformation Knowledge (LINK) Platform provides a single portal for Australia's spatial datasets.
The extensive range of FSDF datasets now available via LINK help define locations and spatial extent of a range of data in themes from administrative boundaries, place names, land and property information, geocoded addresses through to accessing satellite imagery and land use information. This supports a range of applications including, but not limited to, agriculture, utilities, transport and emergency services.
Elevation and Depth 2030: Powering 3D Models of Our Nation – Consultation Document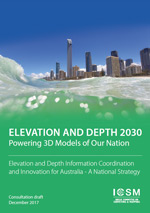 The Consultation Document "Elevation and Depth 2030: Powering 3D Models of Our Nation" has been prepared by the Permanent Committee on Topographic Information; a subcommittee of the Intergovernmental Committee on Surveying and Mapping.
The purpose of this consultation draft is to seek broader community input and support for the Elevation and Depth 2030 strategy which sets the direction for consistent nationwide elevation and depth information. The strategy considers where our current elevation and depth information falls short of community expectations and anticipates the consequences of missing key growth opportunities in the future.
Elevation and depth information is critical to public safety, climate change studies and industry automation, and yet it is one of the most underutilised government data assets. The size, cost and complexity of elevation and depth data makes it difficult to acquire, curate, process and interpret, and as a consequence, it is largely used only by expert data analysts.
ICSM invites your comments on this consultation document. Your feedback will help us make informed decisions on the final version of this strategy, ensuring its relevance to the needs of industry, government and the community.
Submissions can be made via email elevation@ga.gov.au or to icsm@ga.gov.au .
Next ICSM meeting
The next meeting is to be held in Adelaide, 15-16 May 2018.