WHAT DOES THE CADASTRE WORKING GROUP DO?
The operations of the CWG are governed by a Terms of Reference. The CWG is created to provide leadership in advising ICSM on Cadastral reform matters, raise awareness of the cadastre and the benefits of cadastral reform to industry and the community. It's role is to develop a coordinated approach to cadastral reform that incorporates the participation of all stakeholders, including other peak government and industry groups.
WHAT IS THE 'CADASTRE'?
The cadastre in each ICSM jurisdiction is a comprehensive land recording system containing data about all legal land objects based on a survey of their boundaries. such legal land objects are clearly identified and are defined by law. the following aspects of these legal land objects include.
spatial definition - size and shape
identification
description
value
legal rights, restrictions and responsibilities.
The Cadastre can give the answers to the questions of where and how much and who and how.
CADASTRE DEFINITION GLOSSARY
The Cadastre Working Group (CWG) has developed a glossary of terms around all things Cadastre to establish consistency in communications and documentation from ICSM. Link
Cadastral boundary system concepts and terminology
The cadastral boundary system can be represented using a triangular model based on the following descriptions:
the view of lawyers and judges that a boundary is a legal concept – perhaps seen as a zero width line (2D) or surface (3D)
the view of surveyors that a boundary is a socio-technical concept – having physical and technical limits to its definition as well as the social limits of how accurately the affected parties (landowners) need it to be defined in space.
physical boundaries are the tangible evidence of surveyed boundaries that are the accepted limits of land use in the physical world – e.g. boundary marks, natural boundaries, fences, walls, a visible line between different types of land use or cultivation, etc.
documentary boundaries are the documented evidence of boundaries that had been accepted and agreed at the time of their creation – e.g. survey plans, titles, field notes, supporting documents, transfers, etc.
A Spatial Cadastre is defined as the official jurisdictional spatial representation of cadastral parcels and their boundary points and lines.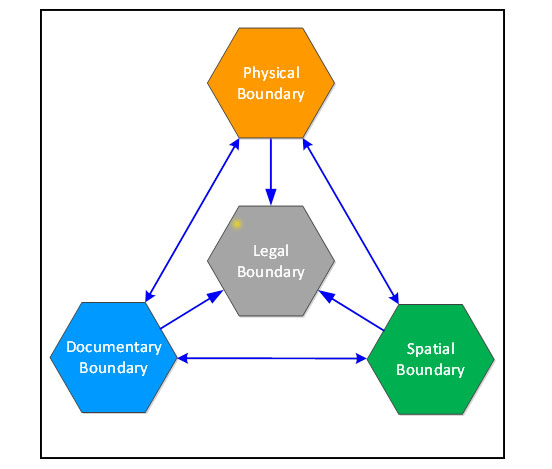 Source:  CRCSI Research Report Upgrading Spatial Cadastres in Australia and New Zealand: Functions, Benefits & Optimal Spatial Uncertainty 
Comparison of Cadastral Systems
In 2009 and 2010 New Zealand and each Australian State and Territory completed two separate and comprehensive spreadsheets of questions related to the administration of their cadastral systems. The results of these surveys have been compiled into a single document titled "Australian and New Zealand Cadastral Systems - Questions and Answers" as a PDF document.